AΩA is committed to preparing future leaders in medicine and health care. Leadership is about making a positive difference and can be developed through education, observation, experience, and by working with leader mentors. Service learning provides excellent opportunities for students to develop as servant leaders. Only one team from each school may be nominated.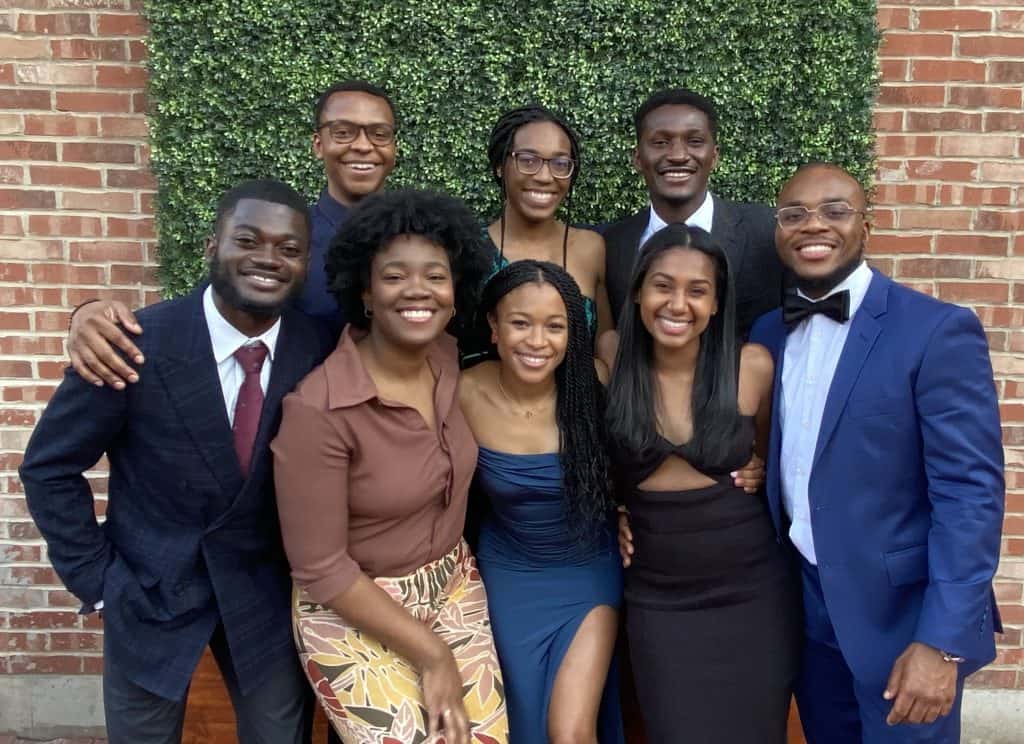 Medical Student Service Leadership Project team from the University of Chicago Pritzker School of Medicine. Project Title: Southside Community Health Advocates: Developing Physician-Community Leaders to Minimize Health Disparities in the South Side of Chicago

2021 Medical Student Service Leadership Project Grant awardees
Alpha Omega Alpha Honor Medical Society is committed to preparing future leaders in medicine and health care. In that spirit we are pleased to announce the 2021 Medical Student Service Leadership Project Grant winners.
Albert Einstein College of Medicine
Title of project: Einstein Community Corps
Students: Rachel Weinstock, Anna Bitners, Bryan Szeglin, April Sosa, Taneisha Sinclair, Brett Bell
Mentors: Alicia Martinez, Heather Archer-Dyer, Dr. Oladimejia Oki, Dr. Nadine Katz
Title of project: Transformational Education Leadership Program: Combating Systemic Racism and Implicit Bias through Medical Education
Students: Lior Levy, Redab Alnifaidy, Joshua Buckley, Ebtisam Zeynu
Mentors: Dr. Pamela Ludmer, Dr. Mill Etienne, Zuleika Cuevas, Ronald Risucci, Danny Catano, Katharine Yamulla
University of Rochester School of Medicine & Dentistry
Title of project:  Health and Incarceration: A Community-Centered Leadership Collaborative
Students: Kavya Bana, Kathleen Carino, Nick Contento, Carly Eiduson, Caroline Farmer, Melissa Holloway, Rachel Johnson, Tessa Oliver, Grace Benitez, Shreya Bhasin, Jay Y. Hwang, Shea Kelly-Buckley, Michelle Liu, Hayley Martin, Katharine Norris, Maryam Omran, Gavin Piester
Mentors: Dr. Diane Morse, Dr. Michael Mendoza, Kristin Doughty, Dr. Natalie Whaley, Matthew Petitte
University of South Florida Morsani College of Medicine
Title of project: USF Health Immersive Interprofessional Education for Leadership-based Medical Education and Community Partnership
Students: Joshua Mizels, Lauren Linkowski, Premsai Kumar, Ryan Sawyers, Paige DeBlieux, Madeline Hooper, Weiwei (Mimi) Liu, Charissa Bloom
Mentors: Dr. Deborah DeWaay, Dawn Schocken, Joann Quinn
The grant is a three-year grant – $5,000 the first year, $3,000 the second year, and $1,000 the third year. The grant will be paid to the sponsoring institution. No indirect costs will be paid.
A team of students at a school with an AΩA Chapter or Association. Teams with AΩA members serving as team leaders will be given priority consideration.
Proposals with matching institutional or dean's funds also will be given priority consideration.
Only one proposal may be awarded to an institution every three years.
Applications must be for new projects with the potential to generate future support from the medical school or other sources, not supplemental funding for existing programs. A new component of an existing program is eligible.
All AΩA members in the submission packet must have active status.
A service learning project for an underserved population, e.g., the indigent, immigrants, refugees, homeless, etc., or a service project related to professionalism in a school, hospital, or clinic. Submissions must demonstrate leadership for students and have a curriculum component.
A description about how the program, mentor, and service learning experience will teach leadership.
A detailed description of the ways in which the project will incorporate leadership development into the curriculum / experience.
A detailed description of regular team meetings with the mentor related to leadership, service, and reflection.
Submission of an annual progress report each year, and a final report to AΩA upon completion of the third year.
Funding for the second-year and third-year is contingent upon acceptance of the report for the previous year's work.
| | |
| --- | --- |
| 2/15/2022 | Online Application from the AΩA Councilor to AΩA |
| 4/22/2022 | AΩA announces awards |
| 2/28/2023 | First-year progress report due to AΩA, including budget |
| 2/28/2024 | Second-year progress report (+ budget) due |
| 2/28/2025 | Final progress report with measurable outcomes achieved |
Application to the Councilor
The Councilor and his/her selection committee will choose the proposal judged to be the most promising and with a high probability of completion. The following must be submitted:
The completed checklist (see attached);
A four-page description of the project with a detailed budget written by the student team leader. Details of the role of the students in project preparation, execution, and leadership;
Description of the team and team leaders and leadership components, including ways in which students will have opportunities to develop leadership skills through the curriculum;
Description of AΩA Chapter role in project (if applicable);
Description of the role of the faculty mentor(s)/advisor(s), and leadership curriculum for the students;
A letter of support from the faculty mentor(s) that indicates the mentor's commitment of time and interest to the project, the students, and leadership development; and
Faculty mentor biosketch(es) (three to four pages).
The proposal selected by the Councilor must be submitted using the Submit Application link below and must include, in addition to the above items:
A letter of endorsement from the AΩA Councilor.
A Dean's endorsement that comments on the student team leader's achievements and potential, and the suitability of the faculty sponsor for mentoring; and
Commitment of matching funds by the Dean or school.
Questions may be directed to